Greeting by Chairman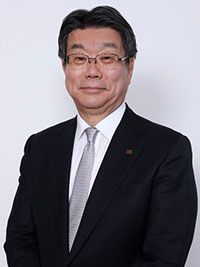 Founded in 1999, JAISA has converted into a general incorporated association in April 2011, and allow me to first thank you for your continuous support as we get off to a new start for further developments.
The Auto-ID industry plays a fundamental role in economic activities and people's daily lives, and continues to see steady growth year after year. Auto-ID is now an indispensable part of the Japanese economy, and we at JAISA take great pride in this fact.
As a labor-saving and efficiency-enhancing tool, Auto-ID has evolved significantly from its initial introduction and awareness creating stage to become a technology that offers security, reliability and convenience for people to live their lives with greater peace of mind. Today, Auto-ID technologies and systems are gaining widespread use quickly in healthcare/nursing care, security assurance, production, distribution, logistics and disaster relief activities where they function as optimized solutions to various on-site problems. At the same time, the technology is also increasingly used in people's daily lives as a key driver for convenience.
To ensure that the Auto-ID technology meets stakeholder expectations and realizes its full potential, JAISA drives activities to promote Auto-ID R&D, standardization, proliferation and education, to support the fostering of Auto-ID engineers through qualifying exams, and to engage in exchange and cooperation with related organizations worldwide. JAISA also hosts the Auto-ID & Communication Expo and adjoining seminars in Tokyo and Osaka every year to proliferate the use of Auto-ID systems among corporate users so as to stimulate market vitality.
JAISA will continue to work proactively for the development of the Japanese economy and the improvement of people's lives, and we hope to have your support and active participation in our future activities.
Takayuki Ikeda Chairman